Renewable Energy Outpaced Coal After 130 years in the US
The US Energy Information Center released a fresh set of data in May 2020 that suggests US renewable energy consumption surpasses coal in 2019 for the first time in 130 years. Why is this important?
It is important because coal is considered the most polluting source of energy when compared to all other sources. Coal releases more carbon dioxide than any other energy source and significantly contributes to global warming.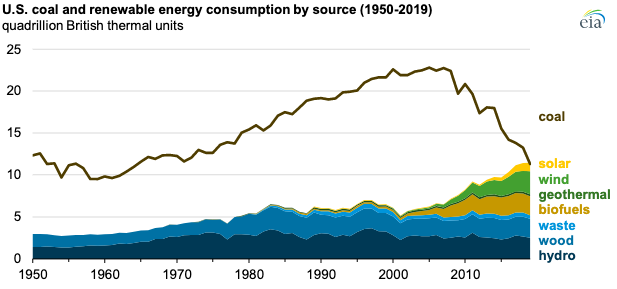 Source - US Energy Information Center
The Renewable sources (wind, solar, thermal) account for 11% of total energy consumed in the US which is significantly smaller than the petroleum sources (37%) and gas (32%). Still, the rise of clean energy consumption is encouraging for pro-environmentalists.
The increase in the share of clean energy sources in the US is not the end of discussion and activism. The country should continue to make its energy sources relatively cleaner if they want to achieve zero carbon economy by 2050. This is a right direction which requires much bigger motivation and focus going forward to achieve the global target to reduce emissions.
The change in clean energy consumption also demonstrates the opportunity in the global clean energy technology businesses.
The decline of coal consumption may also have been fueled by the Covid pandemic as energy demand was significantly reduced as most countries in the world including the US imposed lockdown and closed all industrial, office and commercial buildings. Much has been said and done to promote clean energy sources around the world and this news should give that conversation a significant boost. China, India, Europe and other markets in the world are moving towards clean energy sectors leading the market.
Coal is going away. No political support anywhere in the world may support the resurrection.
https://www.eia.gov/todayinenergy/detail.php?id=43895&src=email